Jeff's trip of a lifetime
Last month, just before Thanksgiving, my wife, Laurie Magid,  and I went on a group trip to Israel. What an extraordinary experience! We toured the beautiful beaches of Tel Aviv, the breathtaking Ramon Crater in the Negev Desert, the holy sites of Jerusalem, and the conflicted regions of the West Bank. We had the privilege of meeting with political leaders, religious leaders of all faiths, middle-schoolers at Hand in Hand (the only school for both Jewish and Arab children in Jerusalem), peace activists, LGBT leaders, young adults preparing for their military service, former soldiers, Palestinian refugees, West Bank settlers, Ethiopian Jews, and Bedouin women. It was like a ten-day long seminar in which we heard the most diverse points of views, and had a chance to really grapple with the difficult issues. Of course – we also had the chance to have wonderful food every day; Israel is a paradise for foodies.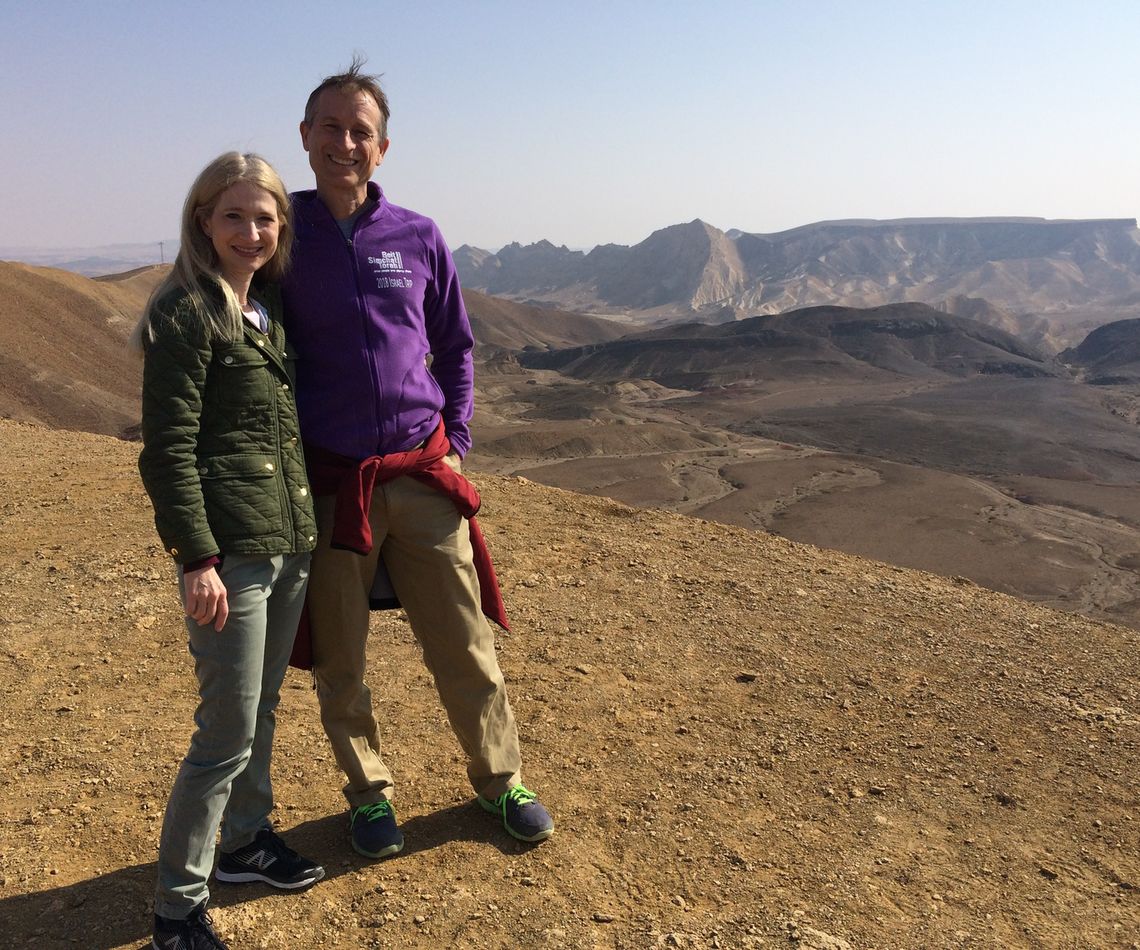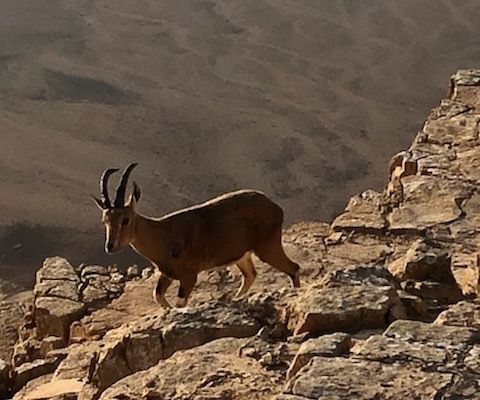 Both Tel Aviv and Jerusalem have sprawling covered food markets where locals doing their weekly shopping mingle with tourists making a lunch of street fare. At the Tel Aviv market we lunched on vegetables grilled for us as we watched. We bought a hunk of scotch-infused halvah – the sesame candy that is a specialty in Israel. Our plan was to bring it to Philly with us, but we could not resist shaving off slices each night and went home with just a taste left for our family.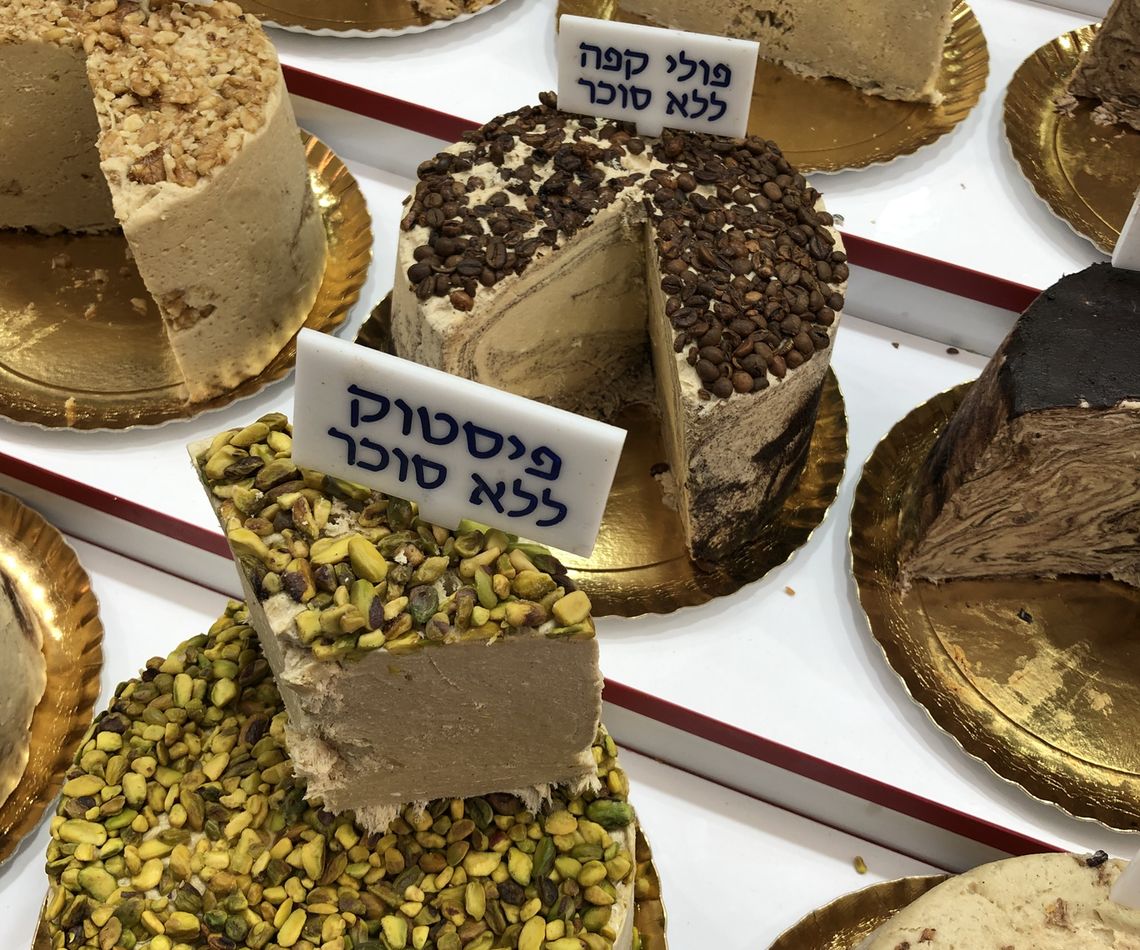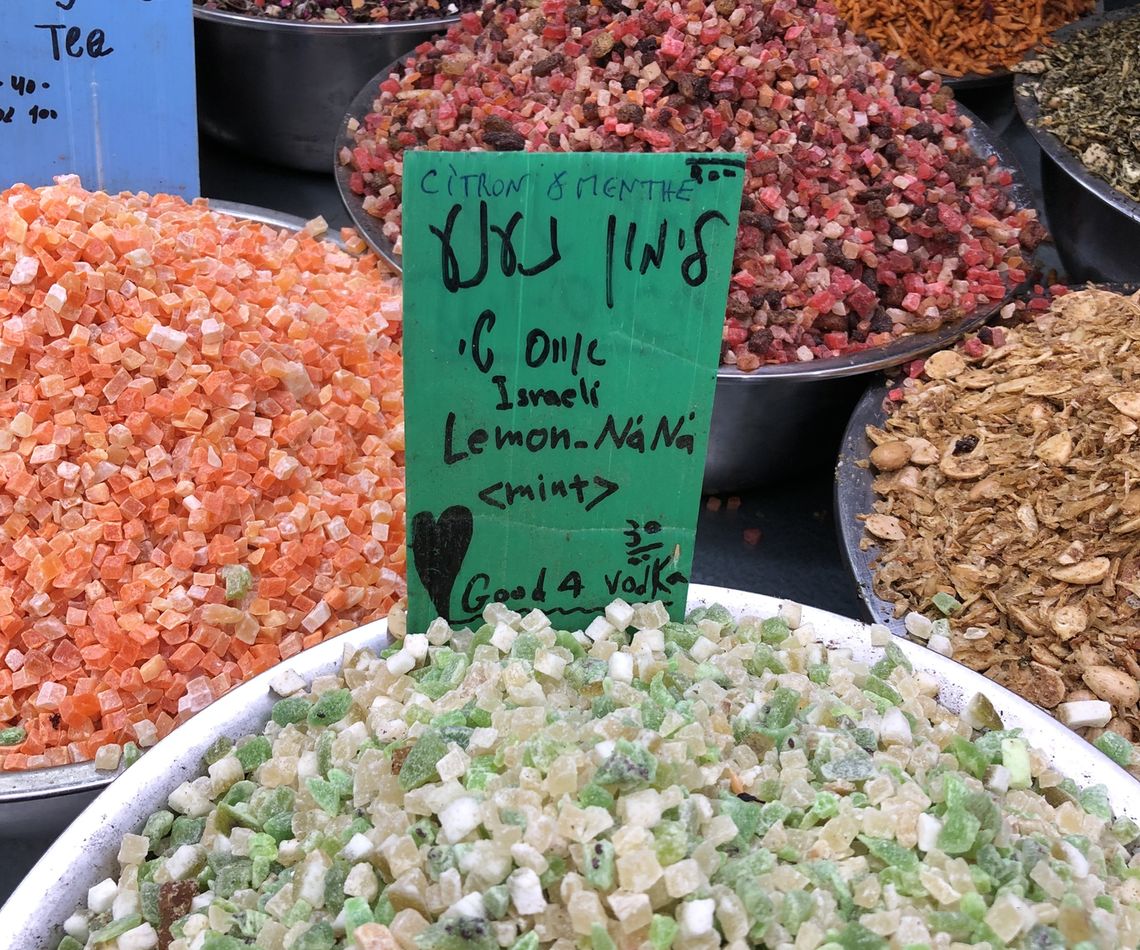 Jerusalem's food market, Machaneh Yehudah, is famous for pomegranates as big as grapefruits; dates that are soft, sweet, wrinkle-free, and just off the tree; dried fruit of all types; hot out of the oven flat bread glistening with oil and za'atar spices; and fish from the Mediteranean, mounded up and displayed in all their glory.  If only I had a kitchen while I was traveling to play in with these incredible ingredients!  We satisfied ourselves with falafel and spinach-filled flaky borekas from the food stalls that alternate and compete for space and attention with the butchers, produce stands, and fishmongers in the market.
On a day trip to the West Bank city of Ramallah, we visited a local café and sampled a justly renowned Arab pastry – kanafe. It is made with a layer of soft goat cheese bathed in rosewater syrup and a layer of a semolina cake. While the kanafe was our favorite, we sampled other delicious pastries including "bird nests" – shredded pastry filled with nuts, and pistachio baklava.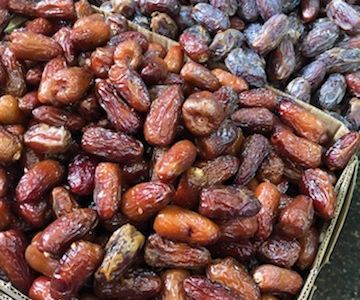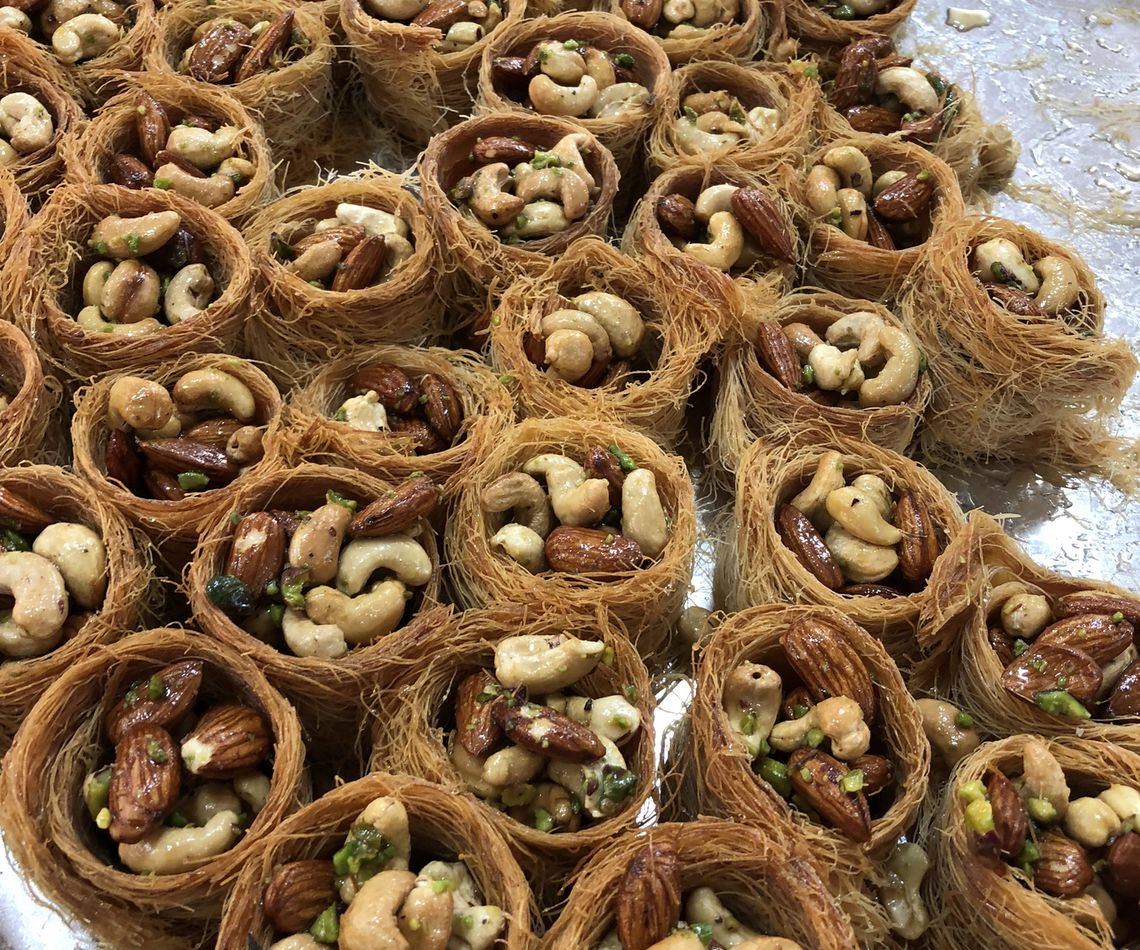 A fascinating visit with the community of Ethiopian Jews, was even more meaningful because it provided my one chance to cook on the trip. Our host, Naftali Aklum, first told us the riveting story about how his older brother had led the Ethiopian Jews, in the 1990s, on the heroic and perilous trek from Sudan to  Israel (soon to be a Hollywood movie with Ben Kingsley and Michael Williams).  Then, Naftali and his family invited us to join them for a traditional Ethiopian meal of sautéed greens, a yellow lentil stew, braised curried potatoes, and injera, the famed Ethiopian crepes, made from sourdough teff.  By unanimous agreement of our group, I was chosen to be the first visitor to try his hand at cooking up a round of the hot spongy bread. My injera was not quite as good as our host's version, but good enough to be passed around and eaten out of hand.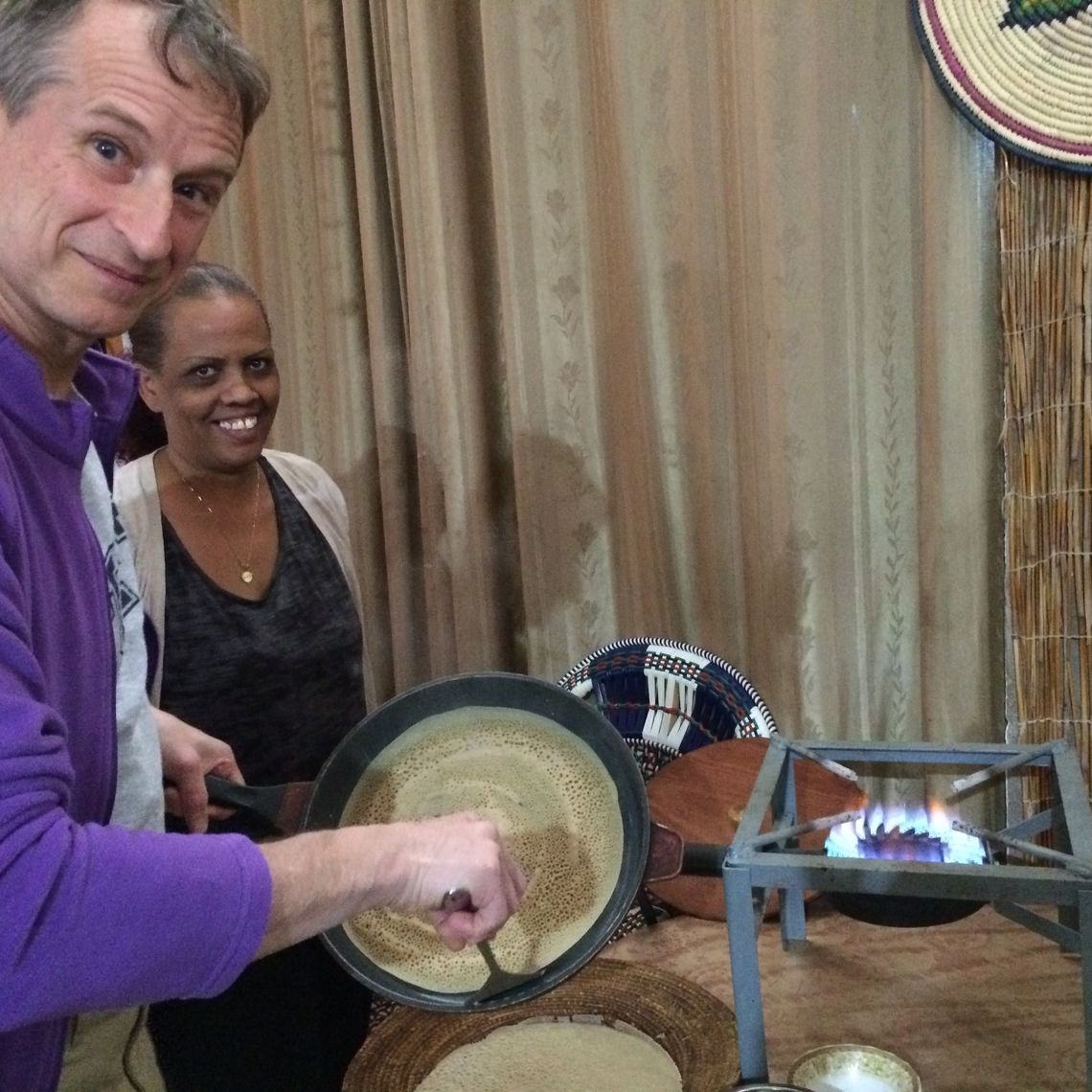 Thanks to my dad, an expert hunter of wild mushrooms, I love foraging, and JAM has hosted several wild food dinners in Philadelphia. I actually had the chance to do a bit of foraging on my trip at one of the holiest sites in Jerusalem – the Mount of Olives. We saw olive trees believed to be close to 2000 years old. These broad, gnarled ancients look hollow and dead inside, but their canopies are lush, with finger-shaped vibrant green leaves, and branches heavy with jet-black olives. Disregarding the objections and warnings of my fellow travellers, I sampled the ripe fruit from a number of these trees to find out, if – as I have always heard, – olives cannot be eaten without brining and curing.  And while yes, many of the ripe olives were fairly hard and bitter, I discovered that the olives still on the tree past ripening had started to wrinkle, and were perfectly edible and quite tasty. Not only that, as they dried, they became oily to the touch as well as the taste, so that we could see where our favorite oil has its start.
The best restaurant meal we had was at Machneyuda in Jerusalem. Out tour guide had told us that super-trendy restaurant booked up to six months in advance. Let's just say that my wife is very persistent, and we had a reservation near the end of the trip.  The place is hopping, with Israeli and world club music blaring out into the street through the open floor to ceiling glass windows.  We were led to our tables by a charming young man who pulled up a chair to join us at our small table to describe the menu and specials.
The casual service, funky eclectic décor, and blaring soundtracks belie the seriousness and skill of the cuisine at this best-of-Jerusalem dining room.  A  standout dish was the starter of lightly pickled yellowtail, with little spoons of tangy thick yogurt and slices of preserved lemon.  A side salad of flat parsley with shaved purple onion completed this uber-upscaled version of the classic humble pickled creamed herring (that is so often found in the supermarket shelf in a glass jar).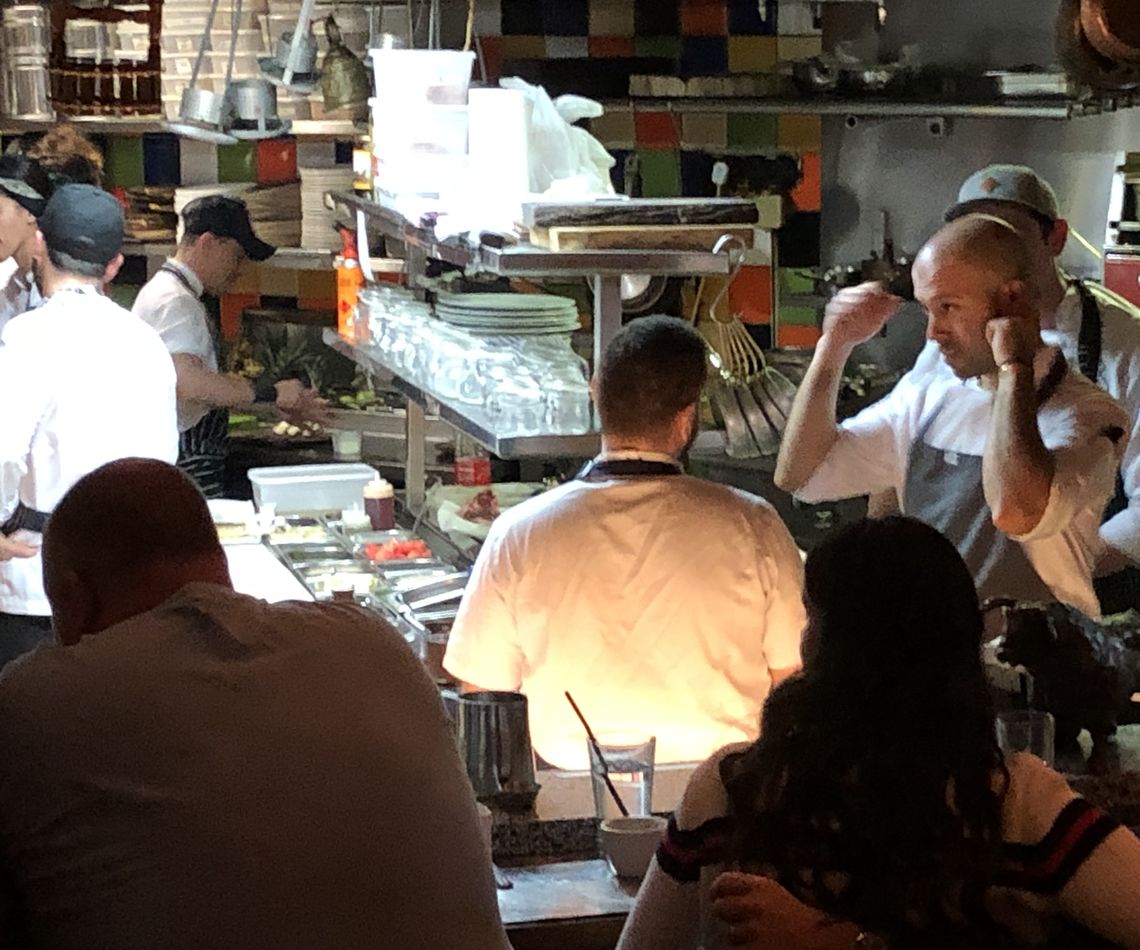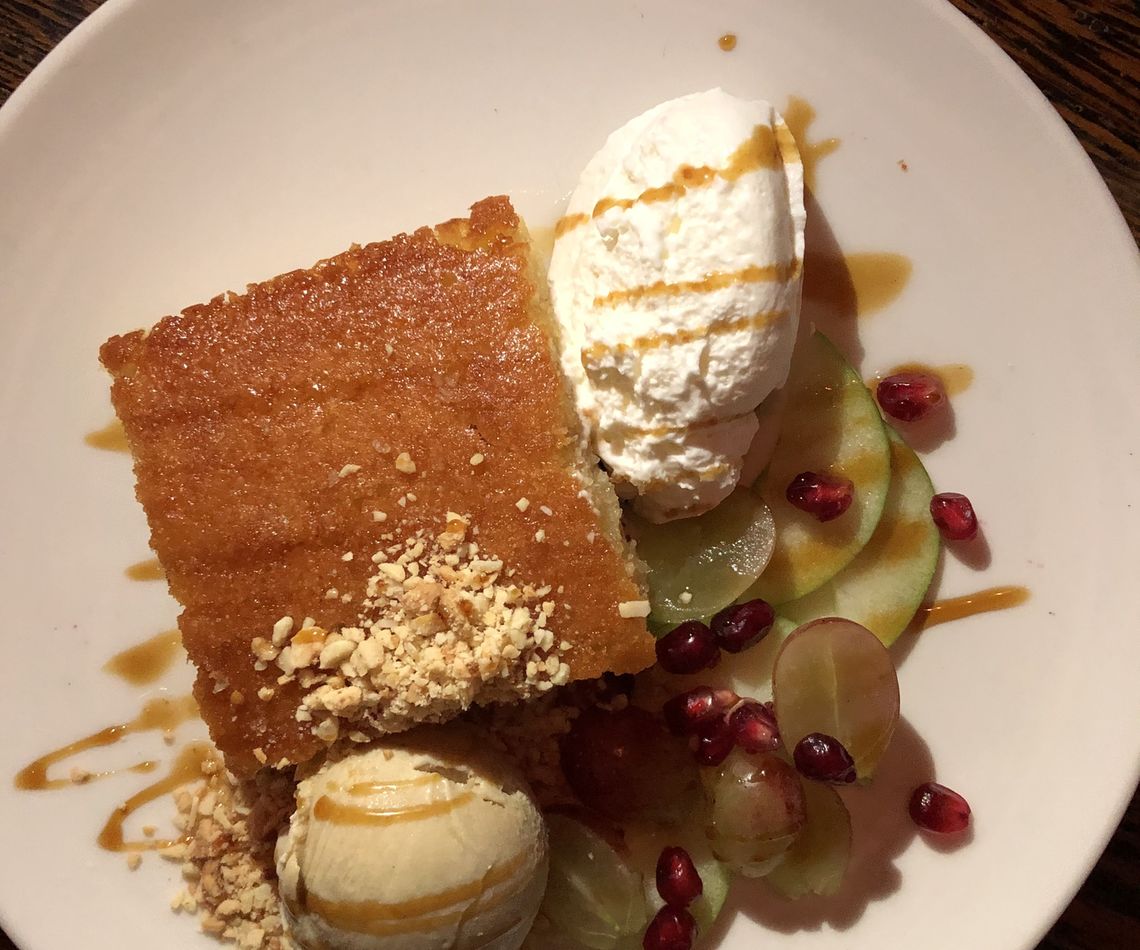 On our trip, we had the privilege of meeting with a range of folks working to improve the lives of the people in Israel.  As we heard moving personal stories, our hosts – from Bedouin women to the operators of an eco-lodge in the Negev Desert –  never failed in their hospitality, and treated us to many tiny cups of the world's best – and strongest – coffee, and sweet tea filled with fresh mint leaves. I am already thinking about a next trip to see more of this beautiful country, to support more of the people working for security and justice for everyone, and – of course – to eat more of the glorious food.